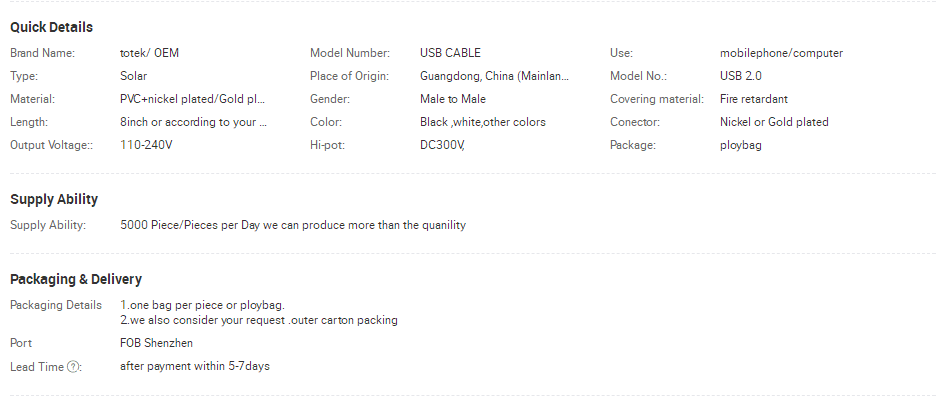 2.0 Micro data USB cable for LG Mobi- phone
1.Transfer rate up to 480Mbps
2.Sync your device with PC or Laptop
CE&RoHS&UL
USB 2.0 Cable application:
Connect USB printers, scanners, displays, keyboards, etc from across the room with this 10 meter / 32 foot
USB 2.0 extension cable. Active repeater (bus powered single port hub) and a premium shielded cable
enables this unit to have 2x the length of a standard USB cable. The tradeoff, however, is devices with precise
timing requirements (isoch devices, usually USB video cameras) will not work with this cable. Will work with n
early all other devices: devices such as printers, scanners, DisplayLink USB displays, keyboards, mice,
and most miscellaneous USB devices. See plugable dot com for additional information and tips for making
the most of your Plugable 10 Meter USB extension cable
USB 2.0 Cable Features:
1.Data transfer up to 480Mbps
2.True Plug and Play
3.Compatible with 1.0&1.1/2.0 devices
4.CE&RoHS&UL
Micro USB Data Cable
· USB 2.0 port transfers data between the device to PC or Laptop.
· Fully compatible with your laptop and desktop. Best replacement for the original one.
· Sync your device with a PC or Laptop with our High Quality premium data cable.
· Synchronize your music library, digital photos, camcorder videos, phone book contacts, emails, appointments, change ring tones, background pictures, and take advantage of other useful applications.
· Revolutionary 2-in-1 cable for charging power and transferring data simultaneously.
· Protective circuit to prevent overcharging (IC chip).
· Current limited, with reverse circuit protection. Will not overcharge your device.
· Charges from 0% to 85% in about 45 minutes!
· Cell phone can be used immediately, while charging!
· Pocket sized, lightweight, durable!