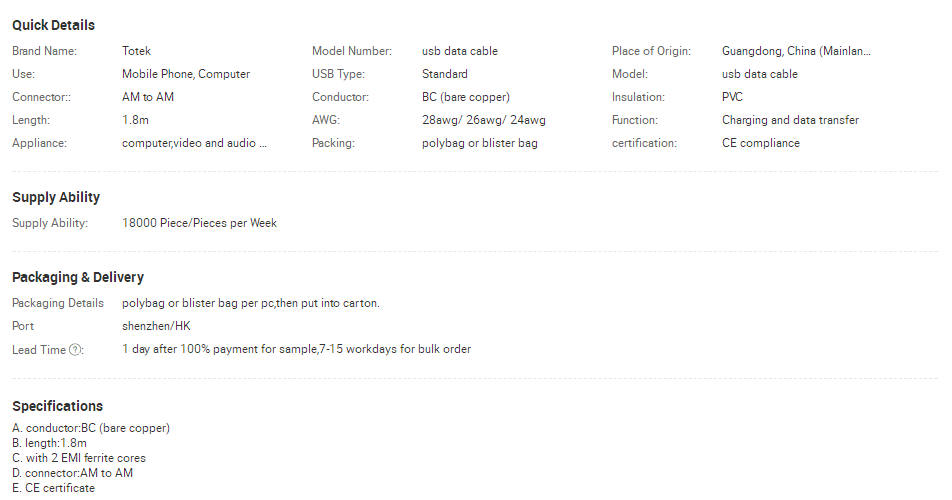 standard usb 2.0 AM to AM cable, 24awg/ 26awg 28awg copper usb data cable
Brief introduction:
1. With more than 6 years experience for manufactures of cables assembly.
2. Main products:
a) USB 2.0 cable (TPE/ PVC/ TPR cable with BC (bare copper)/ TC (tinned copper) conductor in AM/ AF/ BM/ BF/ MINI/ MICRO type.
b) AV (audio and video) cable: like RCA, VGA, HDMI, BNC, 3.5mm STEREO, XLR, HDDB, DIN CABLE
c) Network cable/ lan cable/ ethernet cable (CAT5, CAT5E, CAT6, CAT6A)
d) Custom consumer cable assembly
e) Custom industrial cable assembly
Feature:
1.USB 2.0 cables are backwards compatible as they can carry a USB 1.0 and 1.1 signal. USB cables are used to connect devices such as digital cameras, digital video cameras, scanners, printers,
web cams, mice, keyboards, joysticks, network connections, etc.
2.Gold-plated or Nickel-plated connector resists corrosion and ensures an optimum connection for maximum signal transfer.
3.The maximum length for a single USB cable is 15ft. To get more than 15 ft you will need to boost the signal with a repeater Cable (Part # UC-50200) or Hub.
4.Shielded under mold protects against unwanted EMI/RFI interference
5.USB 3.0 SuperSpeed Cables will offer the next great leap in data transfer speeds between storage devices and peripherals. The 3.0 specification boasts amazing performance that will allow consu
mers and businesses to get more done in less time.
6.Some of the advantages of USB 3.0 include 5Gbps signaling rate (10x-performance increase over Hi-
Speed USB 2.0), backward compatibility to function with all of your older USB components, and Sync-N-Go technology which minimizes user wait time.
QC process: