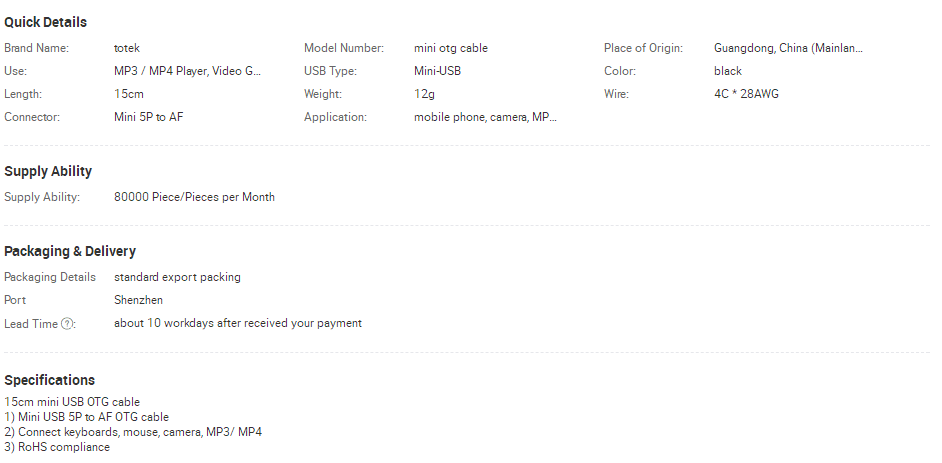 15cm mini USB OTG cable
USB OTG systems can drop the hosting role and act as normal USB devices when attached to another host.
Allow a mobile phone to act as host for a flash drive and read its contents, downloading music for instance, but then act as a flash drive when plugged into a host computer and allow the host to read off the new content.
USB On-the-Go (OTG) allows two USB devices to talk to each other without requiring the services of a personal computer.
USB OTG retains the standard USB host/peripheral model, where a single host talks to USB peripherals.
Product Features :
1) Mini USB 5 pin to USB AF cable.
2) High Speed USB 2.0 certified cable.
3) Can charge your cellphone if your cellphone can be charged through Micro-USB port.
4) 100% compliance with current USB specifications.
5) Create a simple way to connect mobile devices to a USB capable computer for every day tasks such as data synchronization
and file transfers.
6) Compatible with Cellphones, GPS systems, PDAs, OTG devices, digital cameras, etc.
7) Up to 480 Mbits/sec transfer.
Parameter:
| | | |
| --- | --- | --- |
| 1 | Connetor color | Nickel plated |
| 2 | Conductor Material | Copper |
| 3 | Insulation Material | PVC |
| 4 | Cable Jacket | PVC |
| 5 | Cable Length: | 15CM |
| 6 | Cable Key Features (AH): | Over Molded |
| 7 | Cable Subcategory: | OTG Cable |
| 8 | Compliant Standards: | USB / Hi-Speed USB |
| 9 | Connectivity One Side: | 4 Pin USB Type A |
| 10 | Connectivity Other Side: | 5pin Mini-B |
| 11 | Technology: | Double shielded(Al foil and Braid) |
| 12 | Minimun voltage rating | 30V |
| 13 | Minimun temperature rating | 80C |
Application:
1.Removable hard drives
2.Flash drives
3.High-end video and imaging devices
4.Portable devices, camera, recorder and mobile phone
5.High-resolution printer/scanner
6.Video game consoles